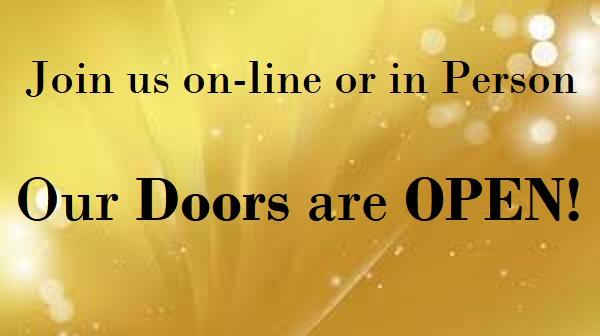 Christ The King is happy to once again open our doors and invite your family to worship with us! We invite you to attend at 9:00 a.m. for Sunday School and Bible study, followed by our 10:00 a.m. Sunday morning service. Our church will of course be taking measures and precautions to ensure everyone attending stays as safe as possible.
One of the very first notable marks of the Church in the Book of Acts is that it gathered gladly to be taught the Apostles' doctrine by preaching, for fellowship, for the Lord's Supper, and for prayer (Acts 2:42). The very word for Church has a sense of "gathering." The baptized of God are called out of this world and gathered together into a flock under Christ the Good Shepherd. The very nature of the word congregation is the action of congregating. We gather to hear the Word of the Lord, to receive the Sacrament of the Altar, to confess together our pure Faith, to sing hymns, and to encourage one another in good works.
We want to acknowledge that while some members and guests will feel free to gather at various times, we will also respect the decisions of other members and guests. If you would like to worship and aren't sure the time is right for your family to enjoy public services just yet or you have health concerns that may make you higher risk, that's okay! We will continue to live stream our services on our Facebook page and they will be here on our website for you to enjoy once the service has concluded.
Our Wednesday evening Book of the Month Bible Study class (B.O.M.B.S.) will continue to be virtual until further notice. It will be live streamed on our Facebook page Wednesdays at 7:00 p.m. and then posted on our website following their conclusion. We will let everyone know when Bible Study returns to the church location. Until then please connect with us in the format most comfortable for you and your family. We can't wait until the day that we can truly "gather" together as one in the Lord's house.
Chirst the King will be doing as much as possible to make sure that Worship services are safe for our community. Please see below for a brief list of measures we are taking to protect your health.
WHAT WE ASK OF YOU:
PLEASE STAY HOME:
If you are sick or showing any symptoms.
If someone in your household is sick or showing any symptoms.
If you have reason to believe you have been exposed to the Coronavirus.
If you are in a high-risk category (if so, please schedule a private communion service with pastor)
WHAT WE ARE DOING:
The entire building will be sufficiently cleaned to be prepared for public worship every week.
Hand sanitizer stations will be available at the resource cabinet and at the kitchen counter.
Pastor and Elder will be screened for fever and other symptoms prior to the service.
Every other row of chairs will be "roped off" as long as "social distancing" is expected.
Families can sit together, but please try to maintain the "six foot distance" with others.
During the Lord's Supper, the communion assistants will sanitize their hands before serving.
During the Lord's Supper, one row of seats per side will be admitted at a time. Please remain standing so that the altar railings won't need to be cleaned after every table.
During the Lord's Supper, the individual cups will be spaced out in the trays to prevent other cups from being touched while you are reaching for one.
The use of the chalice/common cup will be available for those who choose to use it, and it will be thoroughly wiped with alcohol after each table.
The offering plate will not be passed. There will be a designated spot where the offerings can be placed in a plate, or perhaps an offering box. You may also choose to enroll in the LCEF Joyful giving program which allows recurring digital donations in the time frame of your choice. https://www.ctklcms.org/joyful-giving-form
There will not be a greeting/"handshake" line, at first.
Sunday Bible Study and Sunday School will be available at the usual times. Wednesday Bible Study will continue to be "streamed" on Facebook and posted on the website only until further notice.
The Fellowship time with coffee and snacks are "go." Understandably, some will choose to leave, but we know others will really want to stay and get connected to each other after nearly 3 months.
Members may choose for themselves about the use of masks or gloves. We won't be able to provide those for anyone.
News and announcements will be sent out by the already-established "CTK Friday Email." If you are not receiving them, contact the church office to get on our email list. To those members unable or uncomfortable with attending at this time, we encourage them to seek out pastor for pastoral care and private reception of the Lord's Supper. Pastor Yoakum can always be reached by email at: [email protected] The preached Word and the Lord's Supper are exactly what our souls need during these times of trial. Please do not neglect these things. If none of these arrangements (public services, private services) work for you please reach out to pastor so that we can devise another way for you to be fed and nourished.
In His Name,
Your CTK Family